When a Tournament is active, you will be able to battle in the Arena. Tournaments are limited time events where you battle opponents for prizes! The last opponent will be the toughest to defeat, as this is the Boss. Your goal is to defeat all animals, including the Boss, within the allotted time to win a copy of the Boss!
The Basics!
Make sure you are level 17+ to participate in this event

Locate The Arena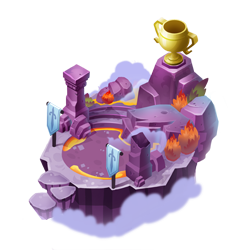 Select the animal you want to use, and tap Battle

(Battling will cost some coins, and you can only battle the animal displayed at that time)

You will only be able to use animals that are not currently busy

.

(Breeding, or Evolving)

Select which attack to use!

There are 3 total attacks to choose from.

2 base attacks, and your ultimate attack.

Keep battling until you've defeated the Boss!
Still have questions? Please visit our Forums for more game information. Don't see what you're looking for? Feel free to create a new thread.